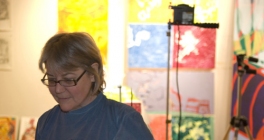 Stephanie Hightower returned to Berlin for summer 2017 for a research and studio residency sponsored by CUNY. She held an artist talk and open studio at TU Berlin, while creating new works on paper for a fall exhibition hosted by FiveMyles Gallery in Brooklyn. This follows last summer's presentation of paintings and drawings at Sommsenstrasse 35, curated by Sibylla Stadelmayer. In February 2015, Hightower published
URBAN ARCADIA
, with Dorothea Hokema. The limited edition book documents paintings, drawings, photography and scientific survey made for two site specific exhibitions in New York. Works were on view in 2014 at The Flatiron Art Space, and the New York Public Library. Hightower presented a solo retrospective of 41 works from 1989-2009 at Wuersch & Gering, on Wall Street. Past exhibitions include: Monroe College in Rochester, Center for Contemporary Art - Chicago, The Strathmore Hall Arts Center - Maryland, University of Texas at El Paso, Emory University and the McIntosh Gallery - Atlanta. In New York, Hightower's work was selected for the "Artists in the Marketplace" at the Bronx Museum and the "Decade of the Marketplace". Selected for one-person exhibitions at The Cooper Union on two occasions, Hightower presented
M.P.H. Series
, and
They Make Excellent Subjects
, works on paper, consisting of transfer prints, collage and painting.
Hightower is the recipient of research, lecture and residency fellowships with City University of New York, hosted by Technische Universität of Berlin, the Vermont Studio Center, the Edna St. Vincent Millay Colony, and the Bronx Council for the Arts. In 2011 she was named the Education Honoree for NURTUREart for excellence in teaching. She serves as director and faculty member for the School of Art Outreach Program at The Cooper Union, as Associate Professor of Art for John Jay College, and lectured for Fordham University, and the University of Connecticut. Hightower teaches Painting, Drawing, and Contemporary Art Issues. She has delivered lectures to the Learning Through the Arts faculty for the Guggenheim Museum, curated exhibits for numerous national arts competitions and graduate student exhibitions, and was commissioned as a muralist for Brooklyn Public Schools through the Rotunda Gallery.
Awarded the Potawatomi Tribal Scholarship for graduate study, she holds degrees from Pratt Institute and the University of Dallas.